You came to the right place
Welcome to the ElectroMage Shop, a place where you can find Pixelblaze, LEDs, and the Lux Lavalier.
We've helped thousands of people put a little more magic into their custom LED projects from costumes to cars, to houses, and more.
Pixelblaze Wi-Fi-enabled, live-codable LED controllers
Regular price

Sale price

$39.00 USD

Unit price

per

Regular price

Sale price

$35.00 USD

Unit price

per

Sold out - check distributors
Reveal the Hidden Magic of LEDs
Here's what people are saying about Pixelblaze
Quality product, excellent service, speedy delivery.

⭐️⭐️⭐️⭐️⭐️ Kevin | Sept. 29, 2021

I have been following Pixelblaze for a couple of years, and waited patiently for V3. It was worth the wait. Excellent communication from Ben, tracking on the package and delivery in 6 days to Canada. Tested with a 16x16 WS2812 matrix and straight out of the box, as promised, this blows the doors off any other controllers I've researched. Lots of great patterns and more on-line to download. There is also a forum for support and an Academy to bolster my (non-existent) coding skills. If you like LEDs and music, perfectly synced, don't have the time or money that DMX requires, this is the controller that will do the job.

Wow. Wow. Wow wow wow.

⭐️⭐️⭐️⭐️⭐️ Dylan | Sept. 10, 2021

Holy cow this is a great board, the ease of use is insane.

If you do any DIY LED projects, this is the board.

Pixelblaze is the best RGB LED controller, period.

⭐️⭐️⭐️⭐️⭐️ Tyrone | June 7, 2021

I've converted all of my LED projects to Pixelblaze. It's just so much easier to use. Now I can concentrate my time on being creative instead of programming FastLED. Just slap in a pixel blaze controller and be done! 3D pixel mapping and seeing the code update on the fly is amazing. Using Firestorm to sync all the boards together is a dream come true. This is such a great product!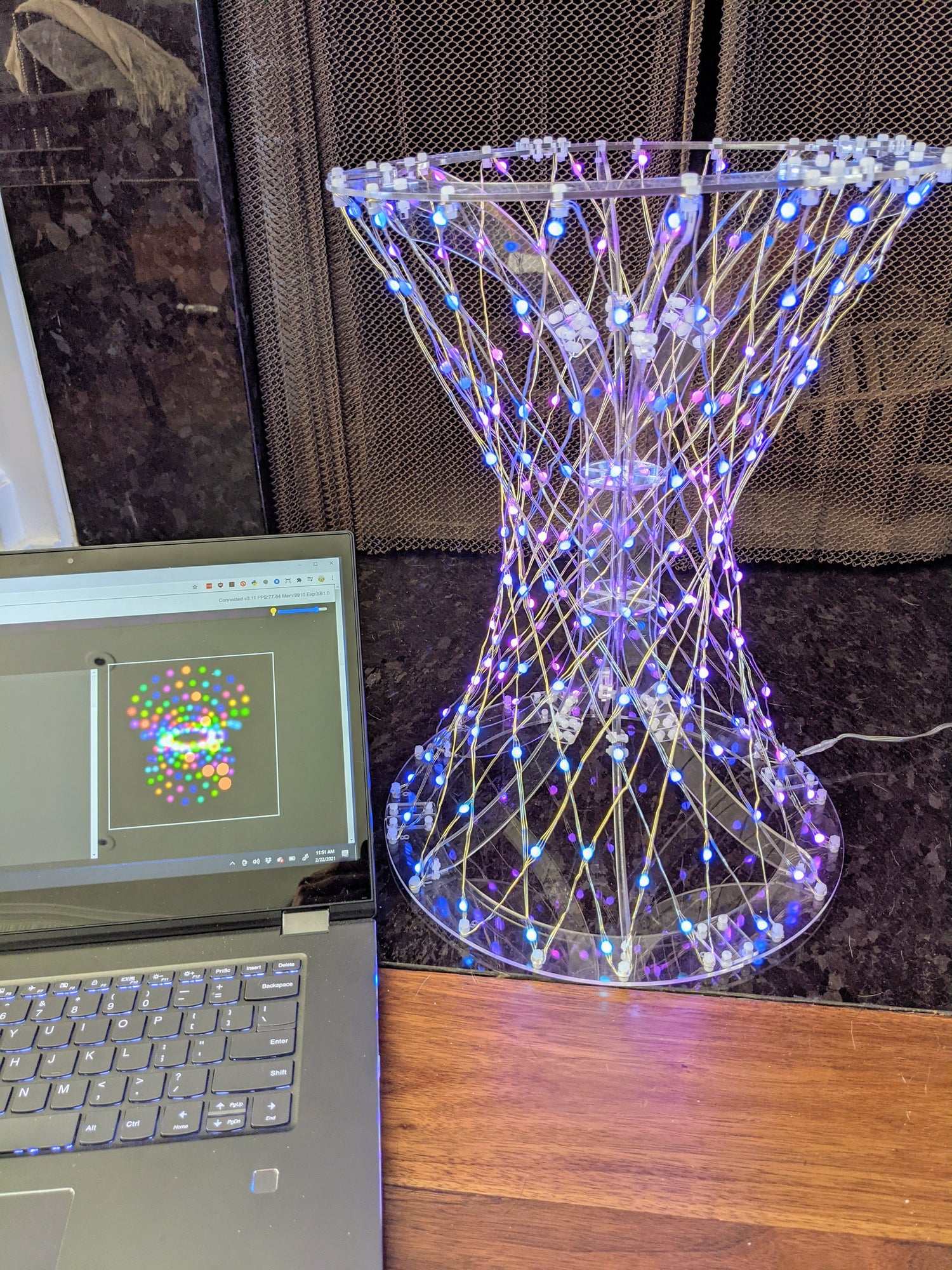 The best thing ever for LED enthusiasts!
⭐️⭐️⭐️⭐️⭐️ Debra / @GeekMomProjects | May 31, 2021
I have been working with LEDs over 10 years, and while I'd seen the Pixelblaze mentioned, I didn't really understand what it did or how it worked. When I finally got one of my own, I was blown away. I LOVE the real-time interactive coding of patterns as well as the plethora of patterns available at the Electromage site. There are a lot of really clever aspects to the coding interface - e.g. easy to use timers and wave functions - that make it easy to generate visually complex patterns with relatively little code. The pattern mapping feature is easy to use as well, and really helps if you want to design patterns for lights arranged in a specific 2D or 3D layout.

Even if you're not into coding, the visual interface for switching patterns and creating a playlist is intuitive and straightforward., I was able to give a Pixelblaze--based gift to a non-technical friend and show her how to select her own patterns with it. This board is a powerful driver for LED projects for users at many different levels. The sensor board makes it fun and ridiculously easy to set up sound reactive projects. I love having a Pixelblaze around for when I'm prototyping projects because it's so convenient to set up interesting patterns on any layout. It's so easy that it feels a bit like cheating!

I'm a huge fan of this product and the community built around it, and I highly recommend it for anyone who wants to program a setup of more than just a few LEDs.
See how pixel mapping works
Controllers, LEDs, and Expansion Options